Vibrant Pune: City's Streets Transform into Vital Public Spaces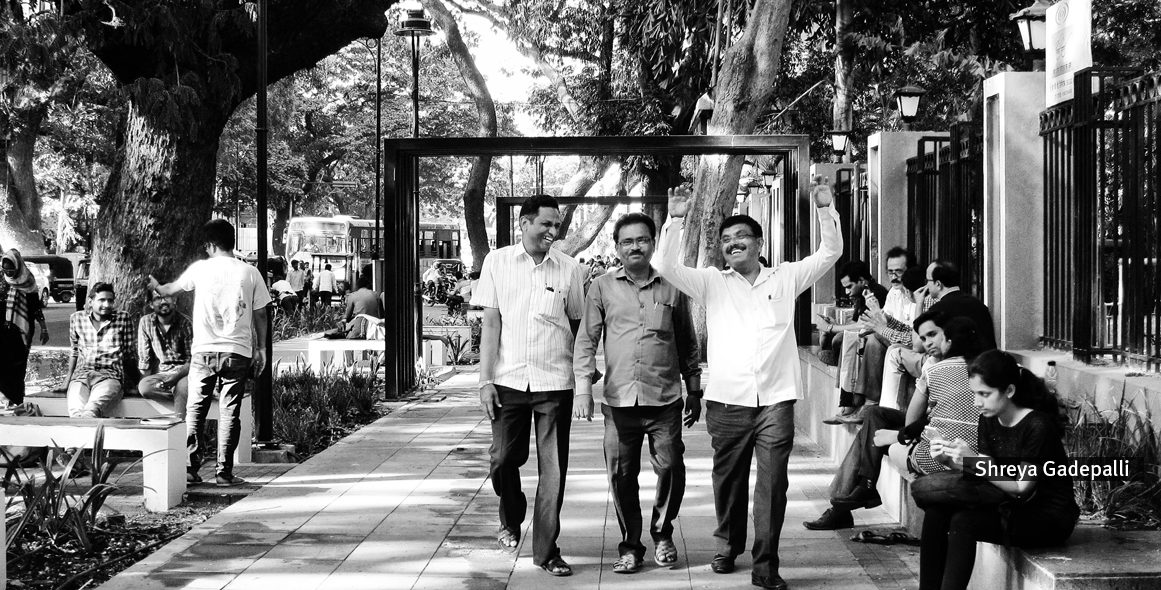 "On our firm course towards sustainable transportation, we are also transforming Pune into a great city for the people, with numerous initiatives to encourage walking, cycling and the use of public transport", said Mr. Kunal Kumar, IAS, the commissioner of Pune Municipal Corporation. Indian cities are gradually taking greater efforts to improve the quality of life for its citizens, especially in terms of transportation. Pune has come to be a pioneer in this regard.
Among the host of people-oriented initiatives being undertaken by the city, Pune has been working to improve its pedestrian and cycling environment by redesigning its arterial roads as Complete Streets. 27km of streets have been identified for redesign, in the ABD (Area-Based Development) area as part of the Smart City proposal, and 100km under the city's annual budget. The first phase of these street design projects has already transformed Aundh's DP Road and JM Road into more vibrant public spaces.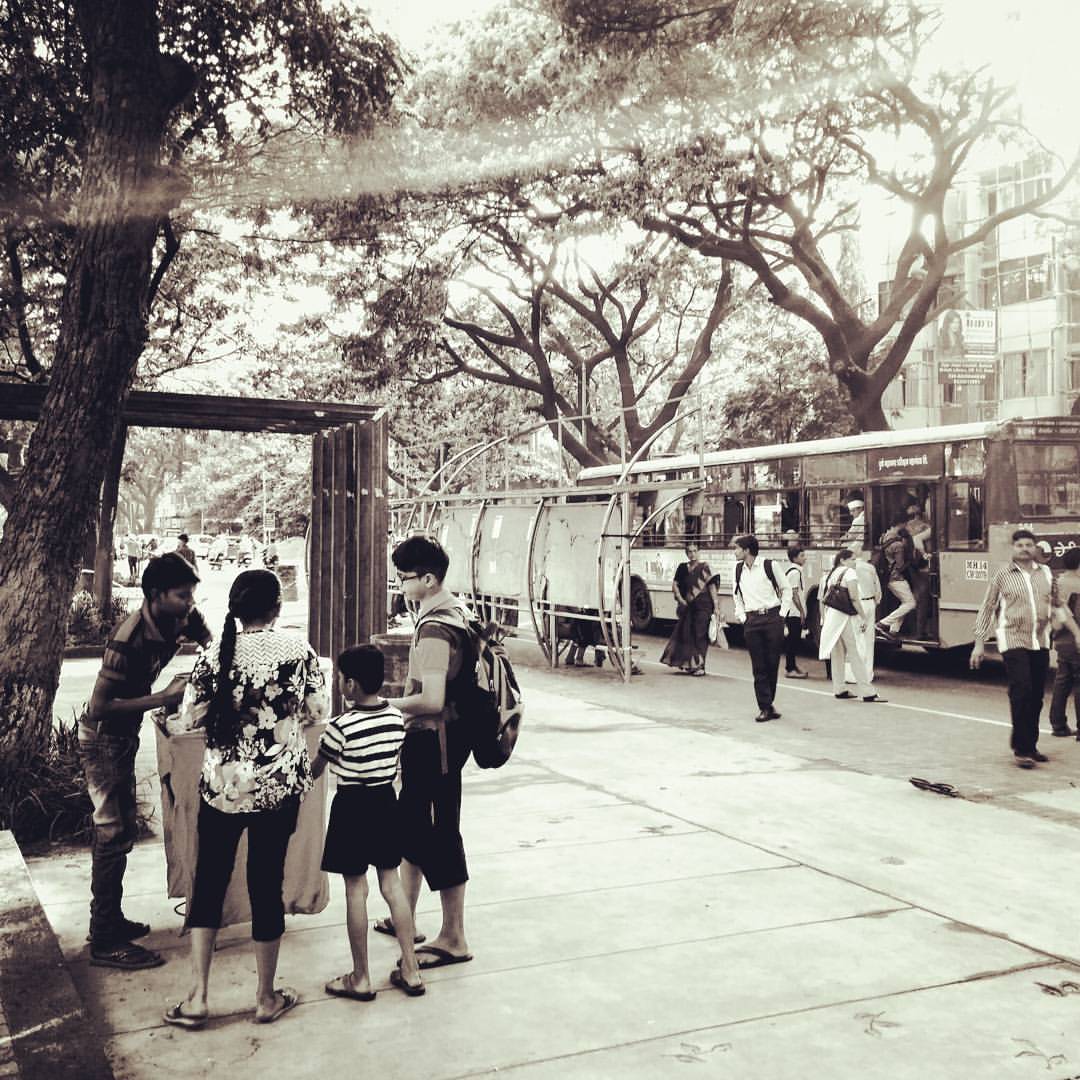 The Jangli Maharaj or JM Road bustles with people and activity – a vibrant street indeed
Complete Streets are those that cater to all user groups – designed with wide and continuous footpaths, safe pedestrian crossings, separate cycle tracks where applicable, conveniently placed bus stops, clearly designated on-street parking, organised street vending and properly-scaled carriageways. With the Smart Cities Mission encouraging the improvement of non-motorised and public transport infrastructure, cities across India are now developing networks of complete streets. Pune has gone over and beyond the Smart City proposal, by setting over twice that target with the Corporation's own budget.
As the first step towards redesigning the 100km network, Pune Municipal Corporation has empanelled 4 nationally acclaimed architecture and urban design firms – IBI Group Inc., HCP Design, Planning and Management Pvt. Ltd., Oasis Designs Inc. and Design & Planning Counsel. The network has been equally divided and allocated to the designers. Each firm thus gets a 'package' of streets, ensuring uniformity in design language and better integration on ground.
Following PMC's footsteps, Pune Smart City Development Corporation Ltd. is also allotting the 27km network in the ABD Area as 3 neighbourhoods to the empanelled designers. 9km of streets in 1 neighbourhood, including DP Road in Aundh, has been contracted to the IBI Group in partnership with Prasanna Desai Architects.

DP Road in Aundh has been redesigned with dedicated spaces for different users
The first phase of reconstruction under the Smart City Mission has commenced on DP Road. The 1.5km stretch is being remodelled by the designers, kickstarting 520m on the ground. The 3.5m wide footpath on either side of the street has been streamlined to dedicate spaces for different users.
The numerous existing trees that line the stretch have been fundamentally incorporated in the design, with care taken to demarcate soft areas around them to allow for growth, and the perimeter forming seating. In addition, benches have also been provided along the footpath, complementing the shops and making the stretch more vibrant. Art installations, including the attractive casing that has been used to cover up the junction boxes, spruce up the space. Other features such as life-sized snake & ladder boards on the footpath further augment the character of DP Road.

Design features on DP Road: (clockwise from left) Art installations with recycled material; attractive casing covering up the junction boxes; play area for children
Similarly, JM Road, being revamped by Oasis Designs Inc., has also been kicked off on a 300m stretch as part of the first phase. Streamlining the haphazard parking has helped reclaim space for the people, enabling a wider footpath and cycle track. Green spaces serve as buffers to segregate the two speeds of walking and cycling. Bus stops have been located so as to allow for smooth flow of pedestrians and cyclists.
Vendors now have dedicated spaces, as do children – play areas with rubberised soft flooring have been designed at regular intervals between the green buffers. Frontage of the shops spillover to the wide footpath, adding life to the street. Better signage, street lighting and seating are other features that collectively make JM Road a stellar example of street design in the country.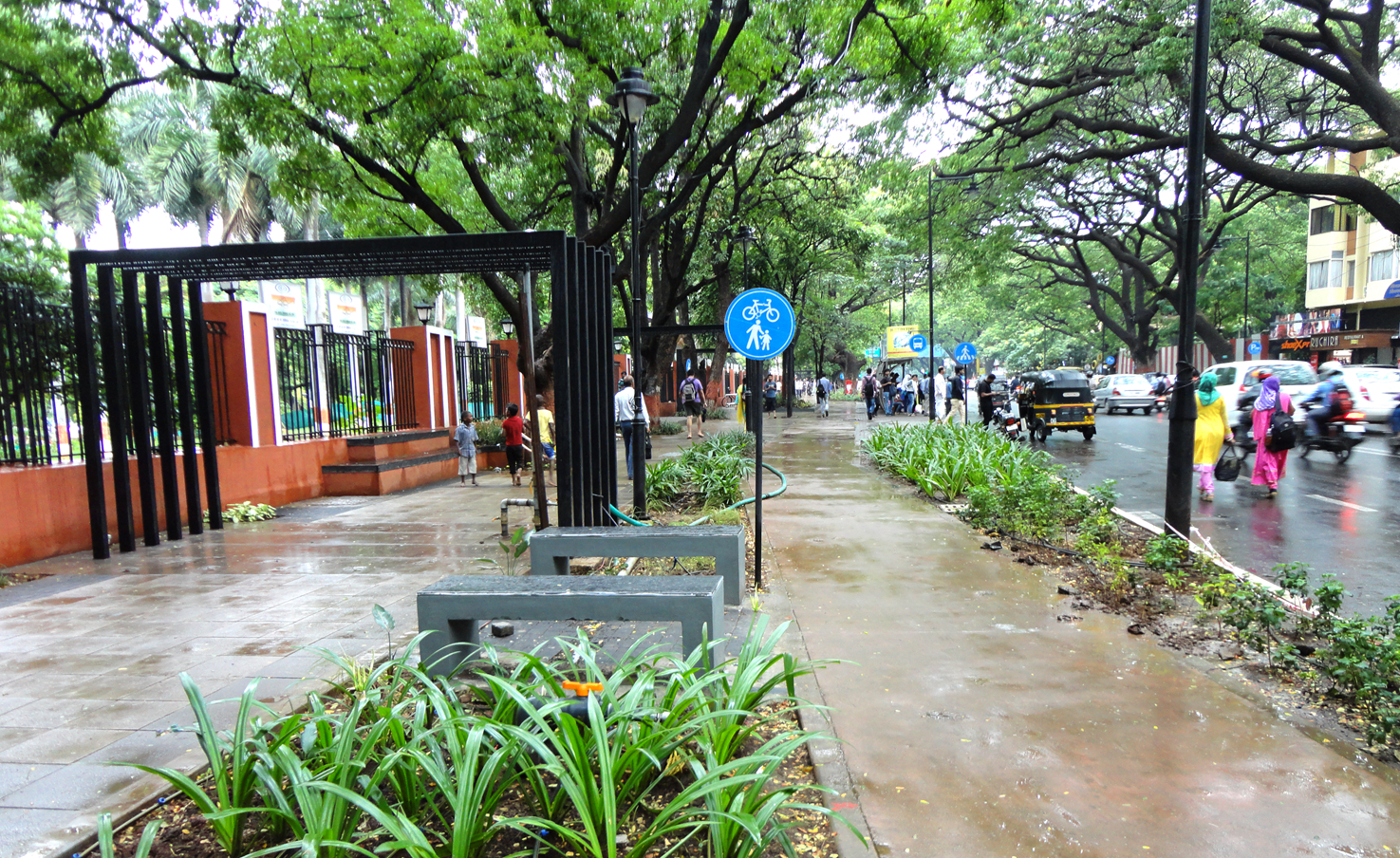 Green spaces serve as buffers to segregate the two speeds of walking and cycling. Bus stops have been located so as to allow for smooth flow of pedestrians and cyclists.
Backing these design changes in the city, are institutional reforms that help enhance the capacity of the government. A dedicated Street Design Cell has been set up with professionals such as urban designers and urban planners to oversee general maintenance of streets and work done by design consultants & contractors, in addition to designing neighborhood streets. The Corporation has also developed a unique set of Urban Street Design Guidelines (USDG) which give clear priority to walking and cycling.
Streets are vital public spaces which go beyond serving as mere channels for the movement of vehicles, but are crucial to the very identity of a city. Acknowledging this fact, Pune is remodelling its streets to respond to the multitude of activities and functions they host. The city thus continues firmly on its course towards becoming more people-friendly by the day.