From A Passer-by to A Citizen: Guangzhou Huanshidong Plaza Regeneration
As the earliest established and the most mature central business district in Guangzhou, Huangshidong Commercial Center becomes dismal by the development direction turning to the east in this decade. However, recently the Huanshidong Plaza, which is surrounded by Shimao Commercial Building, Youyi Shopping Mall, La Perle Shopping Mall and Baiyun Hotel, made its second appearance to the public with a new look.
ITDP-China was invited by GZPI to provide technical support to this plaza regeneration project. By prioritizing NMT, minimizing the distractions by motorized vehicles, create public realm for citizens, a plaza of 0.7ha area has been completely upgraded. As a result, people living and working nearby feel no longer as passers-by but real citizens.
The creation of open public space in Guangzhou has been shifting from the bird perspective to the worm perspective, which means not only considering the magnificent urban grid and pattern but caring for the people-oriented place making for pedestrian and cyclist. It is also a way to active the surrounding commercial and business.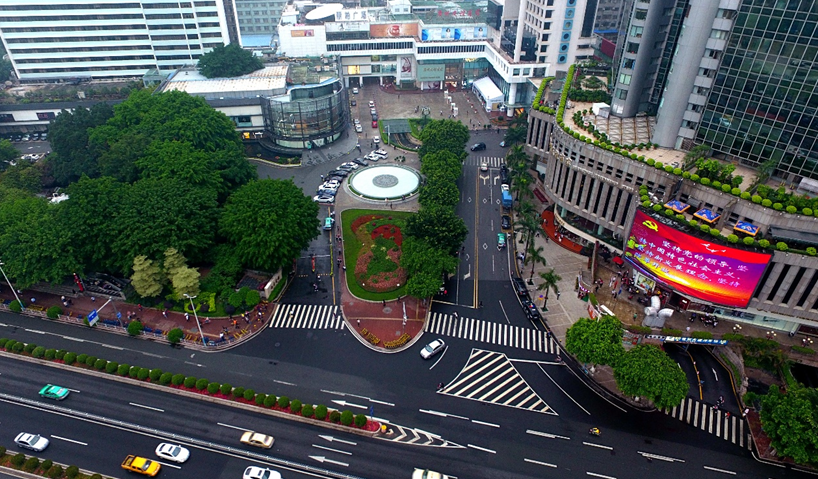 Huanshidong Plaza Before (2017.04)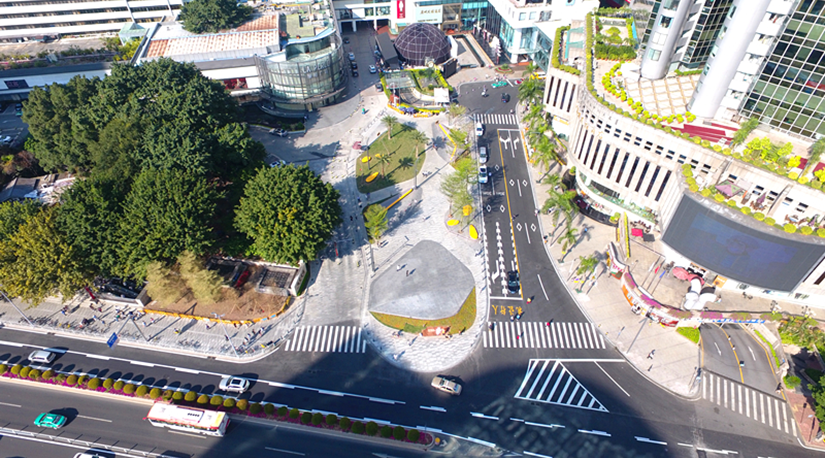 Huanshidong Plaza After (2017.10)
Before the regeneration:
Huanshidong Plaza seemed to be not that bad with splendid round fountain and landscaping, and commuters passing through at peak hours, which created a standard scene of a metropolitan. However, when we zoomed in to the plaza in a human scale, problems can be found as follow:
 Large-scaled fountain out of use due to high management cost,
 Blocked landscaping occupying almost all the plaza space, and people who want to stay for a while can only sit at the edge of the flower-beds,
 Lack of space for pedestrians, and walking routes were merged or blocked by motorized vehicle routes,
 Pedestrian are forced to walk on the vehicle lanes, which caused potential safety risk.
After the regeneration:
 Blocked landscaping area changed to be real accessible and interactive public space, with water screen and fountain even safe for child,
 Provide enough urban furniture including seating and lighting,
 Pedestrian friendly pavement for the whole plaza,
 NMT area with physical separation to provide safe environment,
 Less space for motorized vehicle, like cancel some on-street parking spaces, enlarge walking area, decrease the crossing distances,
 Speed control for the area, with 'pedestrian prioritized' mark on vehicle lanes.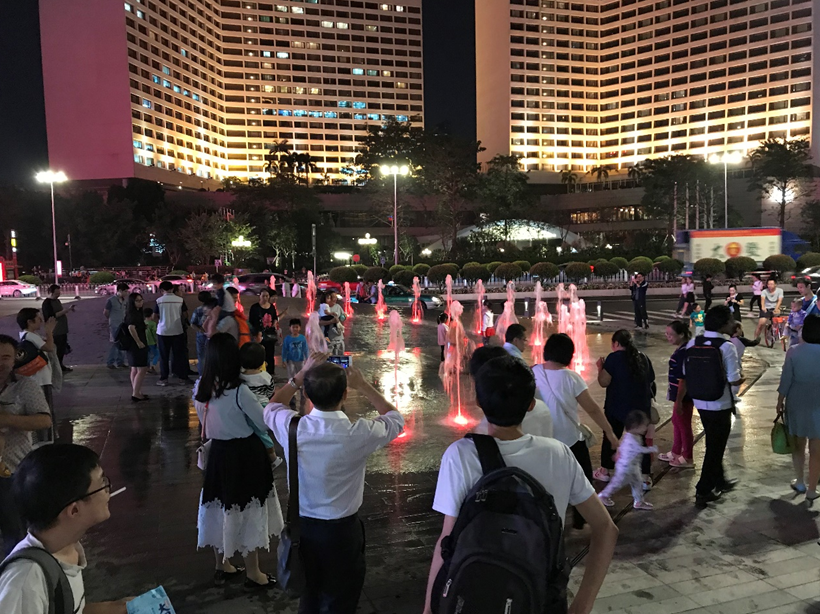 Plaza with fountain are popular especially to children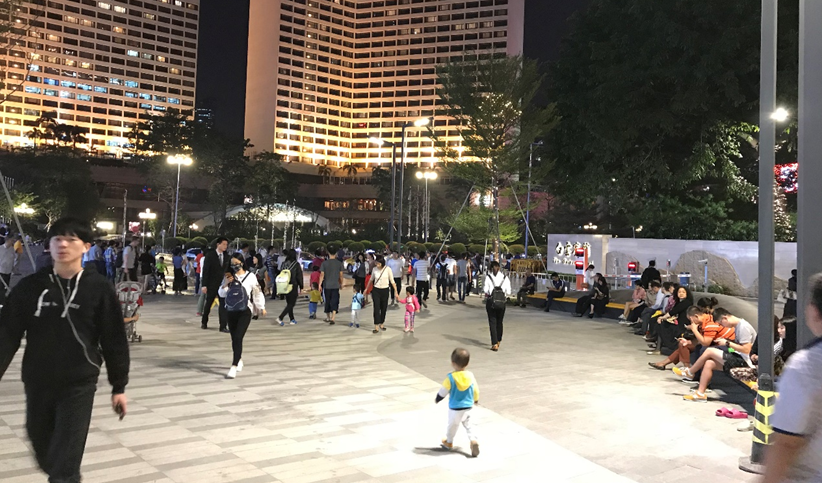 Decorating seating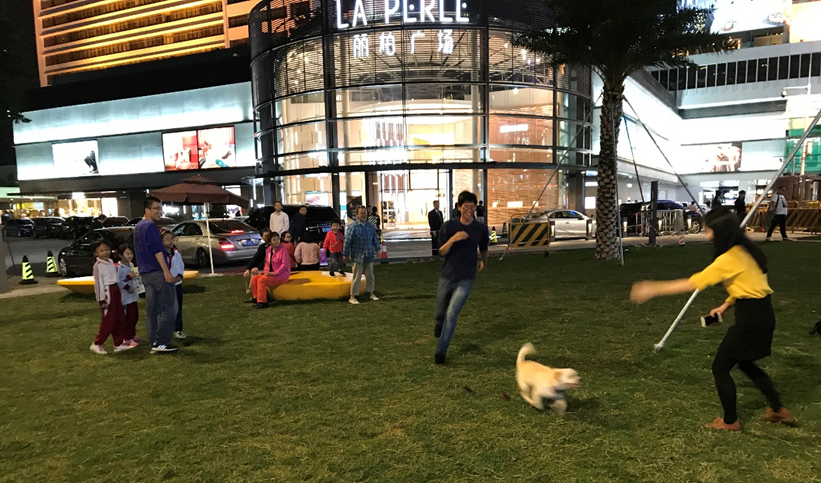 Accessible green area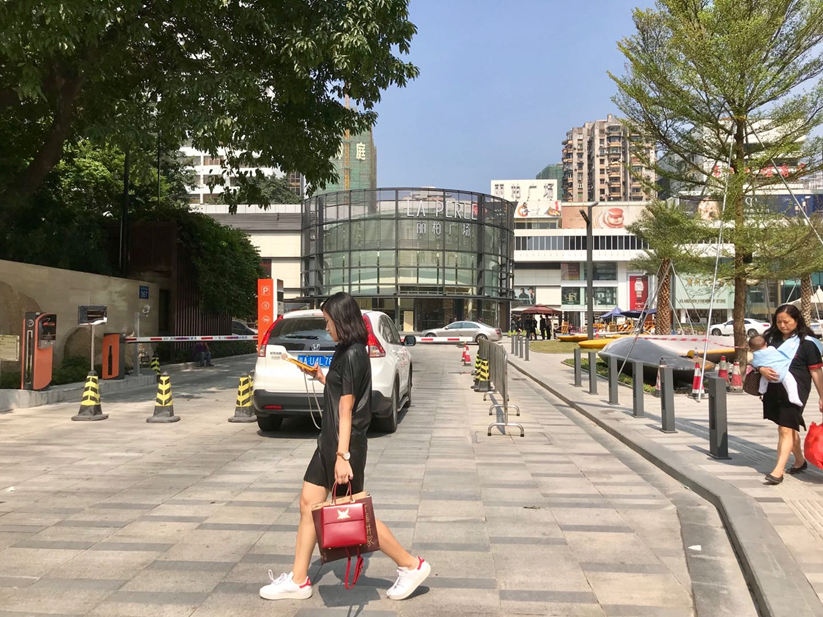 Motorized vehicle lane accessing to Baiyun Hotel was changed with pedestrian pavement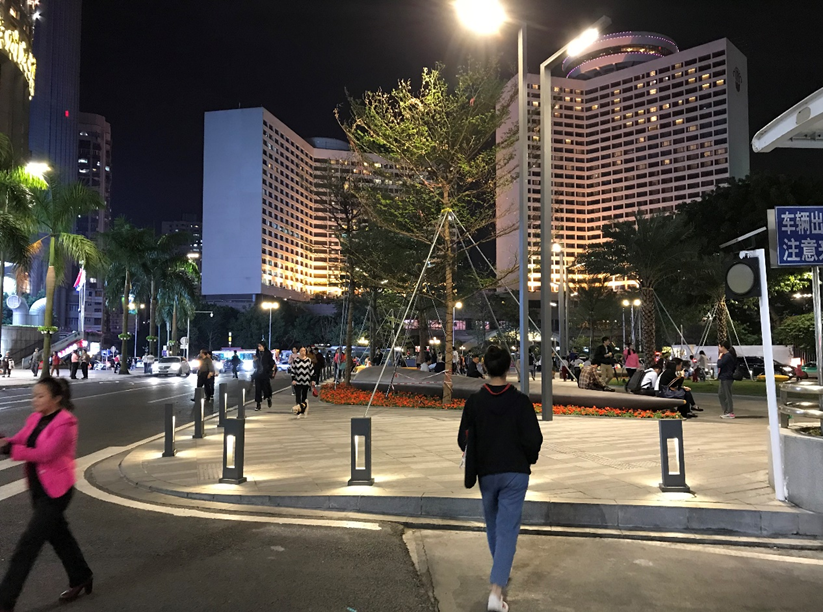 Bollard with lighting function

Pedestrian and cyclist shared space